Work
Mildura offers seasonal farm and harvest work for most of the year, but some months are quieter than others.
 We don't guarantee farm work will be available when you stay with us at Mildura International Backpackers but if you are an international visitor with a Working Holiday Visa or Work and Holiday Visa we try very hard to help you find a job.
Some work may be hourly paid work and some will be paid on a contract or piece-work rate. Sometimes what there is may be dependent on what day you actually arrive, since jobs start when they do, not when you get here.
January through to late April is the peak time for table, dried and wine grape picking, trimming and packing. June to August is the time for citrus picking and packing and vine work such as pulling out, trimming and rolling on.   September to January sees nursery work, vine planting, general farm labouring work, pruning of new growth and trimming of bunches and vine covering. There may also be some late orange picking and other tasks to set up for the new crop of grapes and dried fruit.
Additionally, at different times of the year there may be jobs picking and packing vegetables or fruit such as capsicum, apricots, beans, melons, pumpkins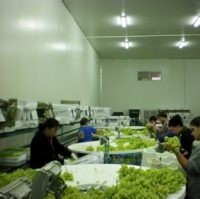 and asparagus.
We will do our best to find work for you when you stay with us and for a small charge towards costs each day we will generally provide transport to and from the work place.
It is almost always easier to get work if you are already staying at Mildura International Backpackers as it is rare that we accept a job that we cannot fill with someone already staying with us. We won't tell you to come if we don't honestly think there will be something available based on what farmers tell us .... but understand that sometimes situations change and the work doesn't go ahead, sometimes you might just miss out on something because of what day you arrive and sometimes it is just a quiet period for work.
Understand that Mildura in spring, summer and autumn can be hot and dusty and in winter can be cold and that farm work is not for everyone, it requires you to be fit and healthy and reliable. If you cannot handle repetitive physical work and cannot commit to being reliable we suggest you think about finding a job or location more suited to your abilities.
CALL US ON 0408210132 TO CHECK THE CURRENT WORK SITUATION.